Hough's Cardiorespiratory Care
The 5th edition will definitely be published on 14 December this year, will have a new title (above), and some whizzo new contributors.
The 4th edition can be accessed at the bottom of this page.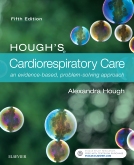 Royalties to Reprieve (www.reprieve.org.uk).

KEY FEATURES
Clinical reasoning based on up-to-date research, practical techniques described in precise detail, extra flow charts and protocols, and text that is patient-centred, clear, readable and holistic.

CONTENTS
Physiology in relation to clinical practice.
· Assessment of the cardiorespiratory patient.
· Respiratory and cardiac disorders.
· Techniques to increase lung volume
- Sputum clearance.
· Management of breathlessness
· Pulmonary and cardiac rehabilitation.·
· Physiotherapy for surgical patients.
· Hyperventilation syndrome
· Needs of elderly people with cardiorespiratory disease.
· Management of children and infants.with cardiorespiratory disease
· Palliative cardiorespiratory care.
· Critical care.
· Emergencies.
· Evaluation and outcomes.
READERSHIP
Physiotherapists, educators, student physiotherapists, nurse specialists in respiratory and critical care.
REVIEWS
'The author has achieved an incredible balance between academic rigour and accessibility, Her considerable experience is evident throughout the text. Complex concepts are described in a clear, easy to read manner with illustrative techniques used to reinforce the text and useful exercises included to consolidate learning.' - Nursing Times
'Does an admirable job in presenting very clinically based information, grounded in recent literature and sound physiological principles...Bravo!' - Physiotherapy Theory and Practice
'An excellent and enjoyable guide...it retains its approachable and comprehensive style which makes it clear and easy to understand...good value for money' - Physiotherapy
'One wants to keep reading on, to be stimulated and educated. The intense nature of the subject is managed superbly by the use of clear readable text. - Journal of Osteopathic Education
'... a wealth of information...well written, packed with useful information and well presented'. - Inspiration
Click here to download Chapter 1 - Physiology
Click here to download Chapter 2.- Assessment
Click here to download Chapter 3 - Respiratory disease
Click here to download Chapter 4.- Cardiovascular disease
Click here to download Chapter 5 - Oxygen, nutrition and drug management
Click here to download Chapter 6 - Physiotherapy for loss of lung volume
Click here to download Chapter 7 - Physiotherapy for breathlessness
Click here to download Chapter 8.- Physiotherapy for sputum clearance
Click here to download Chapter 9 - Pulmonary rehabilitation
Click here to download Chapter 10 - Infants
Click here to download Chapter 11 - Paediatrics
Click here to download Chapter 12 - Physiotherapy for cardiovascular problems
Click here to download Chapter 13 - Hyperventilation syndrome
Click here to download Chapter 14 - Elderly people
Click here to download Chapter 15 - Palliative respiratory care
Click here to download Chapter 16 - Surgery
Click here to download Chapter 17 - Critical Care
Click here to download Chapter 18 - Physiotherapy in Critical Care
Click here to download Chapter 19 - Disorders in Critical Care
Click here to download Chapter 20 - Evaluation of cardiorespiratory physiotherapy